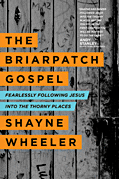 The Briarpatch Gospel by Shayne Wheeler which I received as a complimentary copy of the book for review purposes from Tyndale House is written by the pastor of All Souls Church in Decatur, Georgia. He and his wife felt the call to plant a church but didn't know where and felt the Lord calling them to Decatur, a place that looked and acted different than their norm - what they were used to.
The Author compels us as Christians to fearlessly follow Jesus into the "briarpatch", the sticky messy, sometimes painful and uncomfortable lives of those around us, those in our community and in our everyday lives. "Is the briarpatch where Jesus makes his home for you? If you are a Christian, the answer is yes...Jesus can, of course, be found in the sanctuary, but his presence is not limited to a scheduled hour between breakfast and lunch on Sunday morning." (pg 11) Being a follower of Christ means living and being "Jesus"in the everyday lives of people, not just in the "church" events.
I was really excited to read this book hoping to get some insight and encouragement but I found it somewhat hard to read. I liken it to being on a roller coaster. You are excited about going on it but as you go up that first hill - your heart races and your grip tightens and you wonder if this really was a smart thing to do. There are ups and downs - excitement and fear. I loved the premise and the stories and the heart behind it, but in the midst of it I felt attacked and weary. As a conservative Christian I felt, at times, I was being accused of being self centered, uncaring and hostile. I know there are those out there who are, but just like anyone else - I don't think we should be categorized. I encourage you, that if you are to read this, read it with a friend - one who knows the Bible, one who is willing to talk things out with you - one who is willing to go through the Briarpatch.